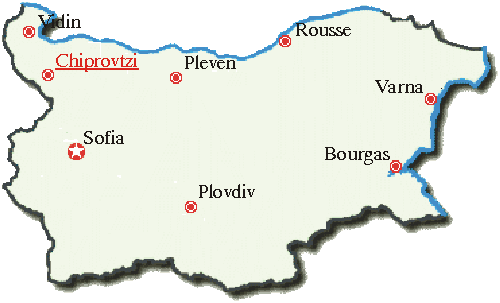 In order to get a better perspective, find Chiprovtzi on the map!
Situated in the deepest and most virgin chest of the Northwestern Balkan, the little town of Chiprovtzi lives in its unique athmosphere.
It's a little, palm-size town, with white houses, perched along the sides of Stara Reka (Old River) and Martinovska Ogosta. A name, that shines in the historical memory of Bulgarian people, it has given to the Bulgarian history such sons as Petar Parchevitch, Petar Bogdan, Georgi Peiachevitch. A community, that fully makes use of the culture of the European Rennaisance and creates its famous Chiprivtzi craft-schools - jewellery, carpets, books.